Evening MPA
Fall Priority Deadline: March 1st; Final Deadline: June 1st;

International F-1 students February 15th
Master of Public Administration at MMC
Consistently ranked as one of the top MPA programs nationwide by U.S. News and World Report, we look forward to being part of your journey and foundation to success in advancing public service, community empowerment, and social goods. Designed for professionals with experience working in public and nonprofit organizations and those aiming to launch start their careers in the public sector. Courses are offered in-person on an annual rotation, where students can join on a part-time/full-time basis. The MPA program utilizes rolling admissions. Applications will be reviewed and admissions decisions will be made as applications are received. Please do not wait until the final deadline date to apply.
Review the MPA Student Handbook to learn more about the program curriculum and requirements, departmental and university policies, and the resources available to MPA students.
Program Highlights
Top-Quality Faculty: The FIU MPA Faculty is the largest in South Florida. The majority of the program's courses are taught by full-time FIU Public Administration professors who are also top scholars in the field of public administration as well as experienced and accomplished public officials. To view the CV's of our full-time faculty visit the

 

PA Faculty Page.
Top Quality Students: Our students are very well accomplished academically and professionally. The MPA program's admissions is very competitive and selective.
Best Reputation in the Region: According to the

 

U.S. News and World Report, FIU MPA is consistently the highest ranked in South Florida. It is also ranked at #3 in the State of Florida and #6 nationwide among Hispanic Serving Institutions.
Networking: Best Public Administration and Non-Profit Alumni Network in the Region; over 3,500 MPA graduates.
Quality Career Services: In addition to access to FIU's extensive Career Services Department the MPA program provides students with the tools, skills and knowledge to be successful in today's competitive job market. The Program has its own dedicated Career Development Coordinator housed in the Department.
Public Service Internship Option: All students without sufficient public service experience will have the opportunity to complete a 300-hour public service internship at a location and position level approved by the MPA Internship Supervisor.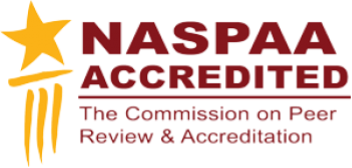 Top Quality NASPAA-Accredited Curriculum:
FIU's MPA program is accredited by The Network of Schools of Public Policy, Affairs, and Administration (NASPAA).
Degree Program Hours: 42 Credit Hours
Accredited by The Network of Schools of Public Policy, Affairs, and Administration (NASPAA), the program requires a completion of 42 credit hours.
Tuition and Fees
Florida residents are eligible for in-state tuition and students employed by the State of Florida may qualify for a State Employee Tuition Waiver. The MPA program also accepts the FIU Employee Tuition Waiver. For more information regarding FIU's tuition and fees, please visit the Office of Student Financials to use the online Tuition Fee Calculator tool. Additionally, the MPA program offers several scholarship opportunities each year, to learn more visit our Scholarships Page.
Advising
All MPA students are required to complete an advising session each semester before class registration. For more information regarding advising requirements, contact us sarsuare@fiu.edu.
Apply Now

In order to be officially considered for admission to the FIU MPA program, applicants must complete the following steps:

Submit an application online. Follow the link to start an application online via

 

FIU Graduate Admissions;
Submit an application fee. A $30.00, non-refundable, application fee payable by check, money order, or credit card is required;
Submit official transcript/s. Transcripts of all degree granting institutions must be sent directly from each college or university either electronically or in a sealed envelope to the Graduate Admissions Office (Note: If your undergraduate degree was from FIU you don't need to do this because your student records are accessible by computer from the Department);
Submit three letters of recommendation, resume, and essay to the Graduate Admissions Office;
Submit all above documents by the application deadline
Please note that the MPA program utilizes rolling admissions. Applications will be reviewed and admissions decisions will be made as applications are received.
Striving to prepare public administrators and leaders with the capabilities and commitment to building stronger and more resilient communities.
Contact Us
Master of Public Administration
Florida International University
Modesto A. Maidique PCA 257
11200 SW 8th Street
Miami, FL 33199
Tel: 305-348-8409
Fax: 305-348-5848
E-mail: sali@fiu.edu